stART to care is a new project to link artists with the heroes of the medical public service sectors that are putting their own well-being second in order to care of all of us during the Covid-19 crisis. This is for the hospital intensive care (ICU) staff and ambulance paramedics, the community volunteers, the sanitation workers, and all who continue giving their very best so that our own lives can carry on. Through stART to care, artists working in all mediums can send a "thank you" with a creative gesture (painting, sculpture, music etc.) to encourage their heroes and demonstrate a solidarity in hopes of making their day a bit brighter.  (Music by Janieck)
Globe in Winter Season
Inspired by Google Earth, I made a sculpture with a fictional landscape, in epoxy, painted with blackboard varnish. Using chalk I can change the colors/seasons as I want. Film: Hessel Waalewijn
The greenhouse of the future
We grew grains in bread – 100% OFF-GRID. All water we extracted from outside and inside air. The – water from air – technology, including the climate control and growing lights were powered by solar energy. The bread supplied nutricians for the grains. This project shows that in the future we don't need water anymore from conventional sources to grow our food.

SunGlacier on the Bloomberg Channel
Bloomberg broadcasted a TV and multimedia item about the cool(E)motion and SunGlacier project.
Technology versus Nature.
The SunGlacier project started as an art-meets-science project and now holds real world applications that can change how water resources are perceived. We are assembling a mobile – water from air – device that extracts 20 to 25 liters of fresh water per day. (in semi-desert conditions) This machine with the size of a table top refrigerator is designed to run on solar energy, but also can be plugged in the electrical grid.
This new water well supplies water for human consumption but also opens the door to off-grid farming.  For the exhibition "De kunst van Brood" we build world's first complete off-grid greenhouse. An artist's view to the circular economy: we grow grains in bread  – and circulate all water.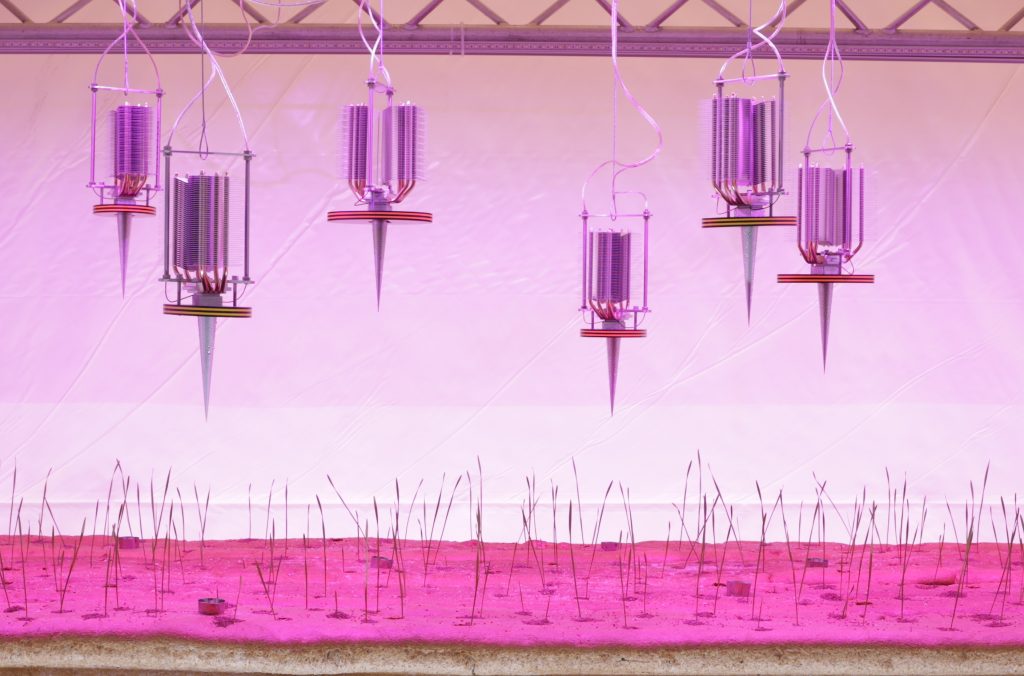 The result of this tough battle between nature's laws and a new technology will be presented at the exhibition "De kunst van Brood" in Amsterdam.
Mr. Tom Middendorp new ambassador of the SunGlacier project
We are honoured to announce that Mr. Tom Middendorp, Special Strategic Advisor, and former Chief of Dutch Defense is appointed as the new SunGlacier ambassador.
Tomorrow Mr. Middendorp will introduce the latest SunGlacier project: "From Bread to Flour", at the PlanetarySecurity Conference in The Hague. This unique Art/Tech project is build in world's first off-grid food production laboratory: water from air technology, growing lights and climate control, all powered by solar energy.
New Art/Tech Project in progress:


See Preview
Exhibition 9 T/M 12 MEI 2019
HET SIERAAD Postjesweg 1 Amsterdam