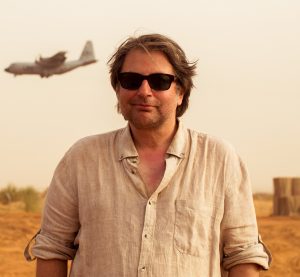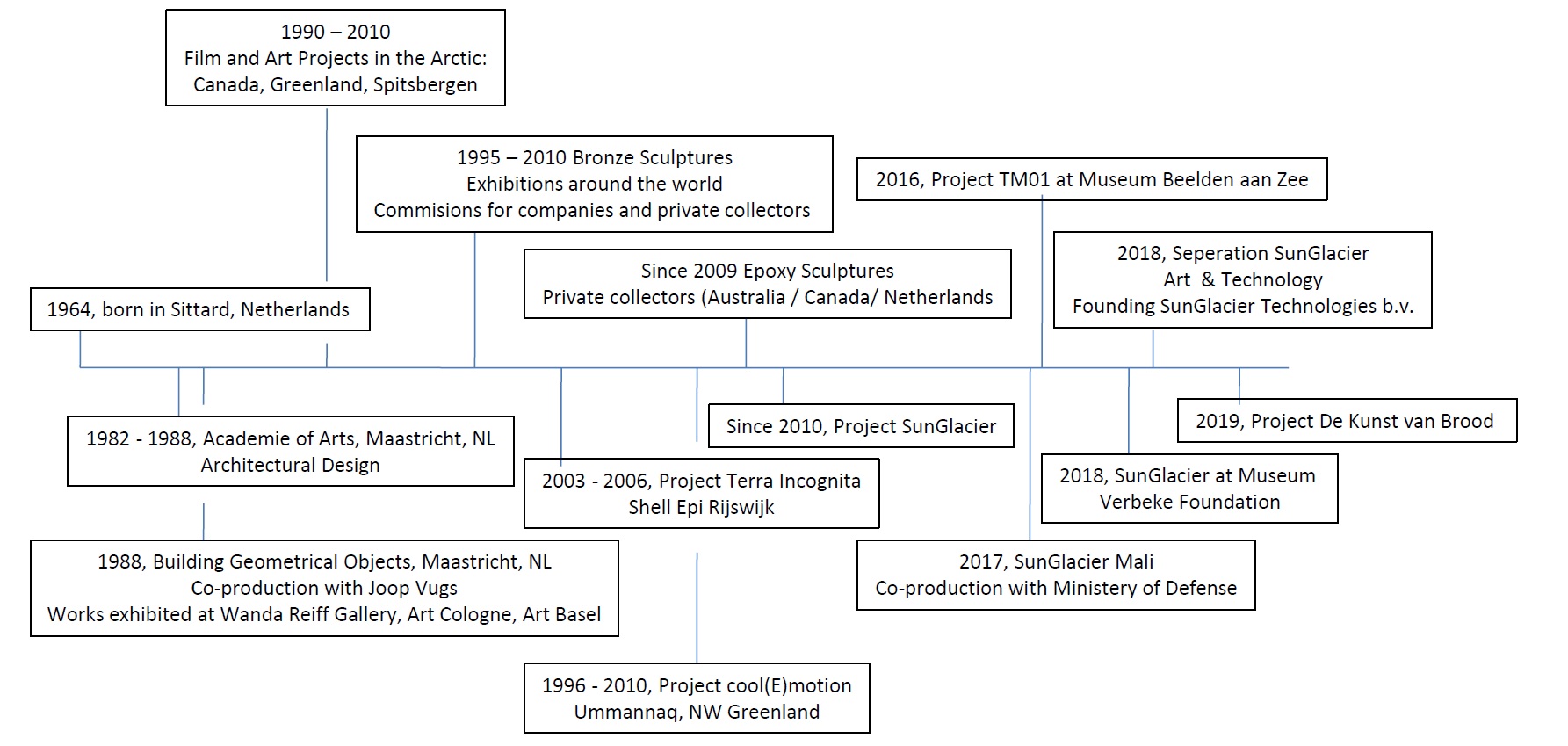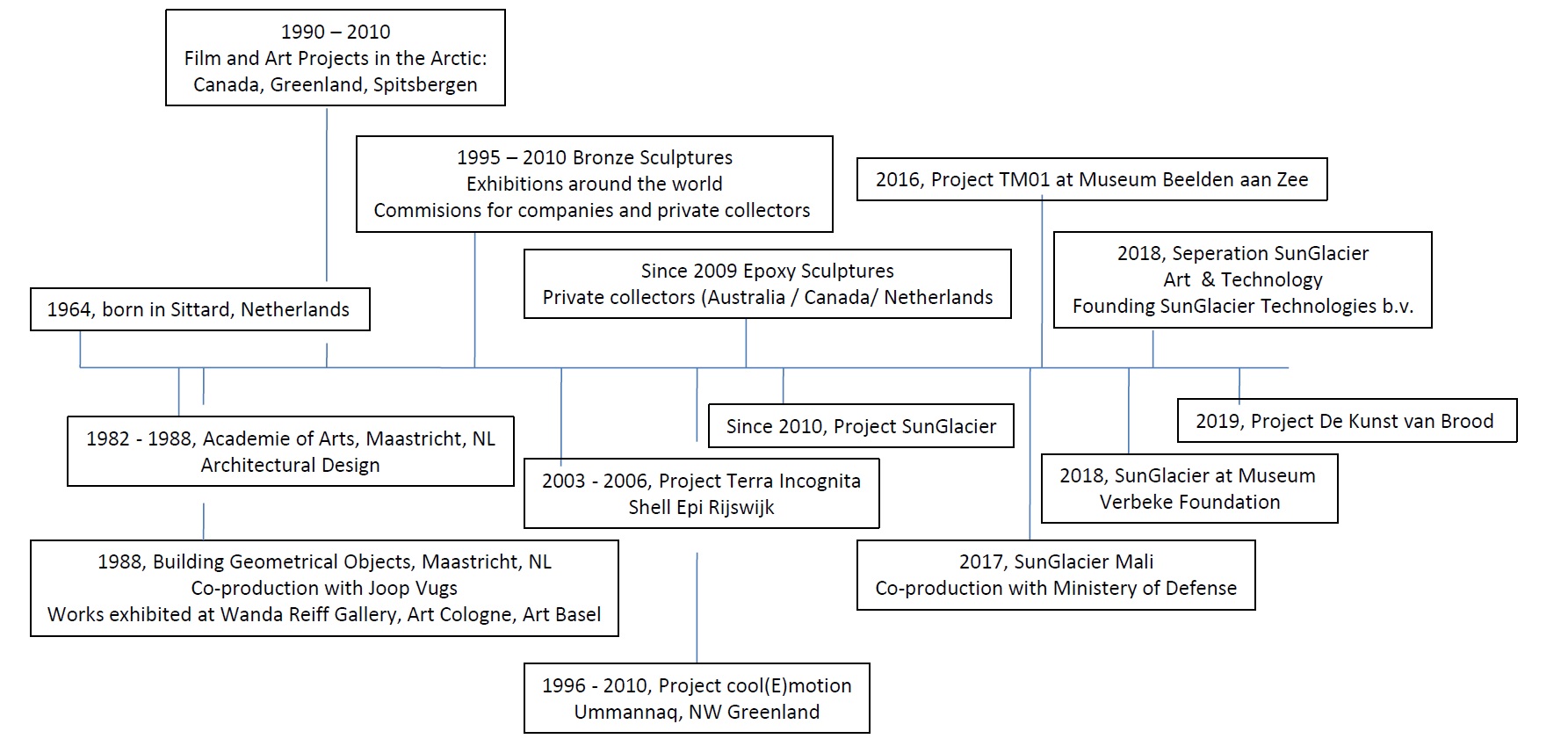 Artist & Project Developer at Art/Tech Project SunGlacier
Since 2010
Climate change is forcing new thought on innovations in facing drier conditions in vast areas of the globe. In the SunGlacier project, I captured these changes for our advantage, with surprising results. SunGlacier is an art project that pushes the borders of theory and present technology. A marriage of art and innovation has proved the value of "dare to dream about making the impossible, possible."  We can now build a solar powered atmospheric water and ice machine in hot and dry conditions: Desert Cascades and SunGlacier. Together with a team of engineers we successfully conducted tests on these projects in a climate controlled laboratory. The ultimate goal is to not only to build the art projects, but to see our technology applied where it can benefit people searching for an independent water source.
SunGlacier build world's first water – out of air – harvester on solar energy with no running parts, no battery and no expensive converting technology. Ap Verheggen and his team proved that this technology can be produced very cheap: available for everyone. Later they developed a new technology to produce more volumes of water: "the growing waterfall".
In 2020 the SunGlacier team developed a larger unit for the World Expo Dubai. A solar powered -water from air- unit was installed on top of the roof of the Dutch pavilion and produced up to 1200 liters of fresh and clean water/day. A huge innovation that could change the world, presented for a worldwide audience: "the biggest show on earth", as many media called the Dubai Expo.
In 2020 Ap together with the SunGlacier team developed solar powered -water from air- units, that produce up to 3 buckets of fresh and clean water/day: Droppler20. 
In 2018 Ap and 2 friends established SunGlacier Technologies B.V. to seperate the Art and the Technology in the SunGlacier project.
In 2017 Ap Verheggen and his team were Invited by the Dutch Chief of Defence, General Middendorp, to instal the Desert Twins, and art meets science project in the Sahara next to the UN base Castor, Gao, Mali.
In 2016 the SunGlacier DC02 Art Installation was exhibited during the OECD meeting in The Hague.
In 2016 the Art Installation SunGlacier DC01 was exhibited at Museum Beelden aan Zee, Scheveningen. During the exhibition the project engineers performed several tests and optimised the system.
From 2010 the project was twice published by The New York Times, (Art section as well) Ap was 4 times interviewed by Reuters for worldwide TV-items and internet publications. Discovery Channel made a special documentary about the project. In May 2017 Associated Press launches a 6 minutes mini-documentary about the project. A lot of Dutch spoken newspapers and TV news stations highlighted the Desert Twins visit Mali project. Since 2010, at least once a week a media channel brings a story about the SunGlacier project. http://sunglacier.nl/category/publicity
The SunGlacier DC03 is selected as the main Art project for the World Expo, Astana, Kazachstan.
Spring 2018 The SunGlacier Challenge for worldwide Art Institutions and Technical Universities is launched in Oman
Project IceBerg Riders – Greenland
1996 – 2010
Ap together with his team lifted two of his monumental sculptures by helicopter onto a drifting iceberg in the North of Greenland to draw attention to the speed of climate change. Ap showcased his documentary film "Iceberg Riders"  based on this project with a premiere in Croatia in late 2012, and has been shown around the world
Terra Incognita
2003 – 2006
Shell International invited Ap in 2003 to build his Terra Incognita, one of the largest bronze art creations in the Netherlands. Seven sculptures, 3.6 meters high, with the relief of the earth's spherical shape and the depth of the oceans on the concave side are prominently situated in the head office in The Hague.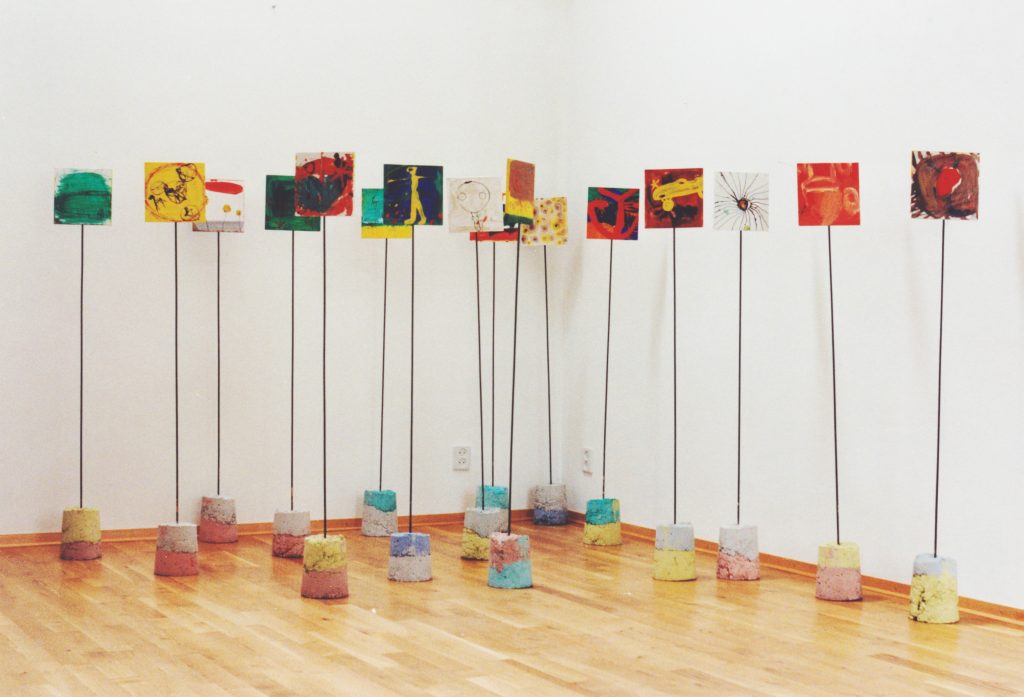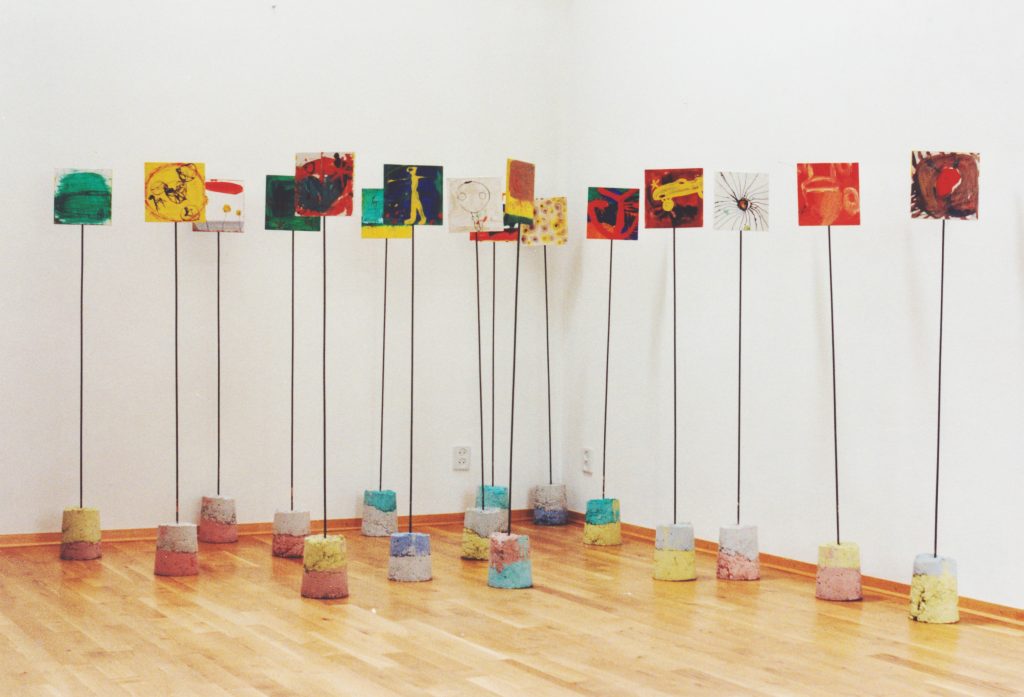 Documentary Production and Camera.
Several short documentary films and videoclips and a 55 minutes documentary: "IceBerg Riders" Premiered on Zagreb Filmfestival and was presented on TV (VPRO – Holland Doc) and other locations: The Hague/ Amsterdam/Delft/New York/Toronto/Warsaw/Costa Rica. The film is selected for several film festivals.
Speaker
2018:
Oman:            Sultan Qaboos University, Medrc, PDO – Middle East, PDO
Netherlands: Sittard, Museum de Domeinen
Amsterdam, DEPT Festival
Spain:             Madrid, Dutch Business Club
2010 – 2018
Netherlands: UNESCO-IHE (several times), Delft University of Technology, TEDx, VPRO Radio en TV (several times), Nationaal Deltacongres, Pakhuis de Zwijger, Wetskills
Poland: Copernicus Institute
Canada: Toronto (several times)
France: World Water Forum, Marseille
Denmark: COP – Climate Conference UN
United States: New York
Costa Rica: Parc Corcovado
India: Asia Tech, Ahmedabad
Iran: Sharif University, Tehran
Former Three Term Cultural Ambassador at UNESCO-IHE
Co-Founder & Artistic Director @ cool(E)motion
The Arctic connection between Climate and Culture
Director and Co-founder at  NRGsociety
NRG (energy) Society focusses positive attention on social problems by designing objects. Large part of the profit of our sunglasses "Uummannaq" is transferred to the Children's Home in Uummannaq, Greenland.
Free-lance Artist at LVMH January 2000  –  January 2003
Many designs for Champagne Cooler Bronze wine trees as sculpting project. ( sold at Sotheby's )